Skip to Content
The History of Pace Jewelers in Greenville, SC
Edgar W. Pace opened Pace Jewelers in 1948 at 1265 Pendleton Street in West Greenville, SC. The shop started as a place where the local residents could go to have their watches and timepieces fixed. Mr. Pace had graduated from the Bulova School of Watchmaking which had a branch in Greenville for the GIs returning home from World War II. Mr. Pace began to add an inventory of popularly priced watches like Bulova, Hamilton, and Elgin once the shop began to grow in popularity. The company was very successful, and Mr. Pace started adding diamond engagement rings and other diamond and colored stone jewelry to his growing business. Mr. Pace's wife, Polly, began working at the store in the mid 1950s. It was her idea to expand the inventory to include china, crystal, silverware, and much more. They also began to accept bridal registry for wedding gifts within the store.
Mr. and Mrs. Pace's son, Steve, entered the family business in 1972 and learned jewelry and watch repair under the tutelage of his father and other watchmakers and jewelers employed at the store. Steve's wife, Teresa, began working at the store in 1976 as a bookkeeper, store decorator, and sales associate until retiring in 2018. At that time their daughter, Rita Scott took over her duties. Steve and Teresa's son-in-law, Jason Durham, began working in 2001, and now is the manager of the store, while being the chief jewelry repairman and is a certified laser welder, using the latest technology in jewelry repair. Jason also does most of the stone setting and custom remounting of our customers' diamonds and colored stones.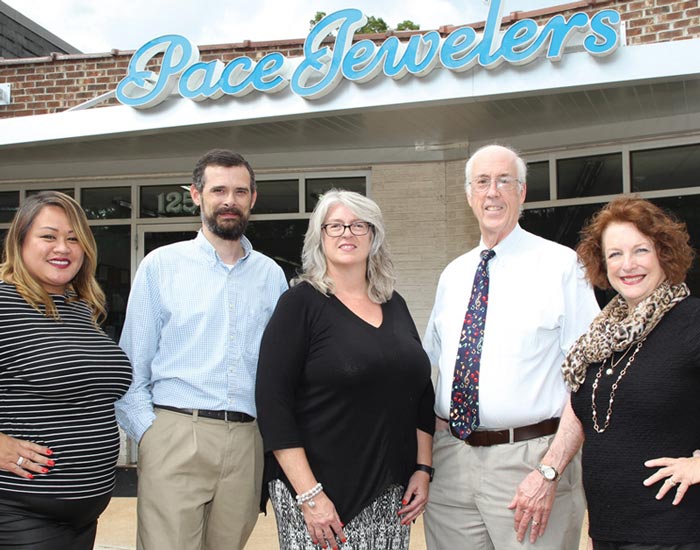 Services Offered from Pace Jewelers Professionally Trained Staff
We are proud to be still serving Greenville residents with all of their jewelry, unique gift, and repair needs. It brings us joy that the community still embraces us after all this time. We hope that we get to continue to prove our dedication to the industry by providing excellent customer service for many years to come.
Services Offered
Here are some of the services that you can expect for our jewelry specialist and their skills:
Jewelry repair
Great pricing
Customization & personalization of gifts with metal engravings
Silver polishing
Appraisals
Ear piercing
Pearl bead restringing
Watch repair
Meet Our Other Standout Pace Employees
Pace Jewelers other employees include Mene Hinn, employed since 2016 whose duties include sales, watch repair, jewelry repair, engraving, and pearl/bead restringing along with custom jewelry wiring. Mene has also graduated from the Gemological Institute of America's Diamond grading and Color Stone grading courses. Employed since 2006, Carol Edens works in sales, store decorating and silver maintenance.  We have been blessed with great employees throughout these past 70 years of service and consider ourselves very lucky to have found them to help continue our services and values.
Let Pace Jewelers help you celebrate
the special moments in your life